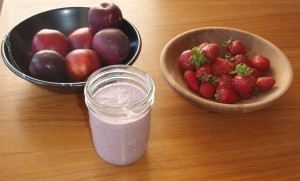 Please forgive my horrible picture taking.  As you can see, I am new to this, so it will only get better (hopefully!).
I came across this recipe from one of my favorite blogs to which I often refer my patients, The Whole Life Nutrition Kitchen.  I love this recipe because it allows you to make a protein smoothie without using any protein powder.  What's wrong with protein powder you ask?  Some are of course better than others, however they still have a huge laundry list of ingredients, some of which are ok and many that are less to be desired.  One of the hardest pieces about finding a good protein powder is the kind of sweetener they use.  If you are trying to find one that is low on the glycemic index or that doesn't have much sugar, I find they often use either artificial sweetener, fructose, corn syrup, cane sugar you name it…..not to mention finding one with optimal ingredients AND that tastes good too!
In this recipe, the nuts are soaked overnight, at least 8-10 hours.  Why is this important?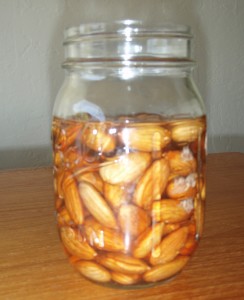 Unlike grains, nuts contain smaller amounts of phytic acid. Their real issue for us is having high amounts of enzyme inhibitors. These enzymes are useful to seeds and nuts because it prevents them from sprouting prematurely. But they can really strain your digestive system.
Soaking your nuts in water will neutralize these enzyme inhibitors, and also help encourage the production of beneficial enzymes. These enzymes, in turn, increase many vitamins, especially B vitamins.  Your nerves, skin, eyes, hair, liver, mouth, muscles, gastrointestinal tract, and brain depend on the B vitamins for proper functioning.  The B vitamins are coenzymes that are involved in energy production.
It also makes these nuts much easier to digest and the nutrients more easily absorbed.   Soaking nuts and seeds  is a traditional method of preparation.
Recipe adapted from the blog I referred to above…
Fresh Seasonal Fruit  Almond Smoothie
Make sure to plan ahead of time when making this smoothie.  You need to soak the nuts for 8-10 hours.  It's best done before going to bed so they can soak overnight.  In the morning be sure to drain off the soaking water and rinse well in a colander. You can use fresh or frozen fruit.  The fruit is amazing right now at the farmers markets, use what is in season! Yum.
1 cup raw almonds, soaked overnight
1 1/2 to 2 cups water
1 to 2 cups fresh or frozen strawberries
1 or 2 peaches, nectarines, plums, apricots
1/2 tsp vanilla extract
1 tablespoon raw honey or a few drops of  stevia (optional, I opted out on this due to the natural yummy sweetness of the fruit)
Place the almonds and water into a high-powered blender or a blender fitted with a sharp blade (vita mix is excellent). Add water and blend until very smooth, about 30 to 60 seconds. Then add the rest and drink up!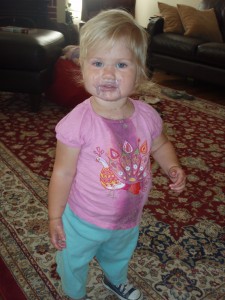 Satisfied Customer!
If you are getting on the nut and seed soaking kick, then make sure to soak more almonds and you can make homemade almond milk.  This is the only milk product my 20 month daughter will drink now.  No more store bought, the taste difference is amazing!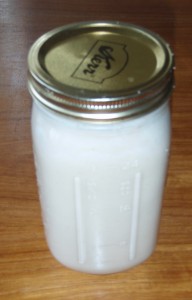 If you want to have some nuts or seeds for snacks, but you can't digest them raw very well… then:
you can add sea salt to your filtered water and nuts, leave in a warm place for at least 7 hours or overnight.  Drain in a colander.  Spread on a stainless steel baking pan and place n a warm oven (no more than 150 degrees) for 12-24 hours, stirring occasionally, until completely dry and crisp.  Store in an airtight container.  Recipe ala Sally Fallon, Nourishing Traditions.